CRIM's 2018 Annual General Meeting - June 20th, 2018
CRIM members are invited to Annual General Meeting which will be held on June 20, 2018.
UNE SOIRÉE SPÉCIALE SOUS LE THÈME
DES GRANDES INITIATIVES COLLABORATIVES!
Une fois encore, le Centre de Recherche Informatique de Montréal (CRIM) et PROMPT s'unissent pour offrir une opportunité de réseautage à la communauté des acteurs d'innovation et présenter des grandes initiatives collaboratives en TIC.
ASSEMBLÉES GÉNÉRALES DES MEMBRES DU CRIM ET DE PROMPT EN SIMULTANÉ
À 16 h 45, nous vous convions à nos assemblées générales annuelles. Celles-ci auront lieu simultanément, dans deux salles séparées.
Dès 18 h 00, cocktail de réseautage sur la terrasse du CRIM (si la température le permet), une occasion d'échanger avec les chercheurs et partenaires.
À 18 h 15, place aux annonces des grandes initiatives collaboratives :
Un aperçu du projet ENCQOR par Jacqueline Dubé du CEFRIO
Le membership renouvelé et lancement d'une série de conférences exclusives aux membres du CRIM par Françoys Labonté
Le financement du Fonds vert par Luc Sirois de PROMPT
In-Sec-M et le centre d'excellence numérique en cybersécurité par Antoine Normand
EN RÉSUMÉ :
16 H 30 ACCUEIL DES MEMBRES
16 H 45 ASSEMBLÉES GÉNÉRALES DES MEMBRES
18 H 00 ACCUEIL DES INVITÉS ET DÉBUT DU COCKTAIL
18 H 15 PRÉSENTATIONS DES INITIATIVES COLLABORATIVES
18 H 45 POURSUITE DU COCKTAIL ET RÉSEAUTAGE
LIEU : CRIM,405, AVENUE OGILVY, BUREAU 101, MONTRÉAL, MÉTRO PARC - STATIONNEMENT GRATUIT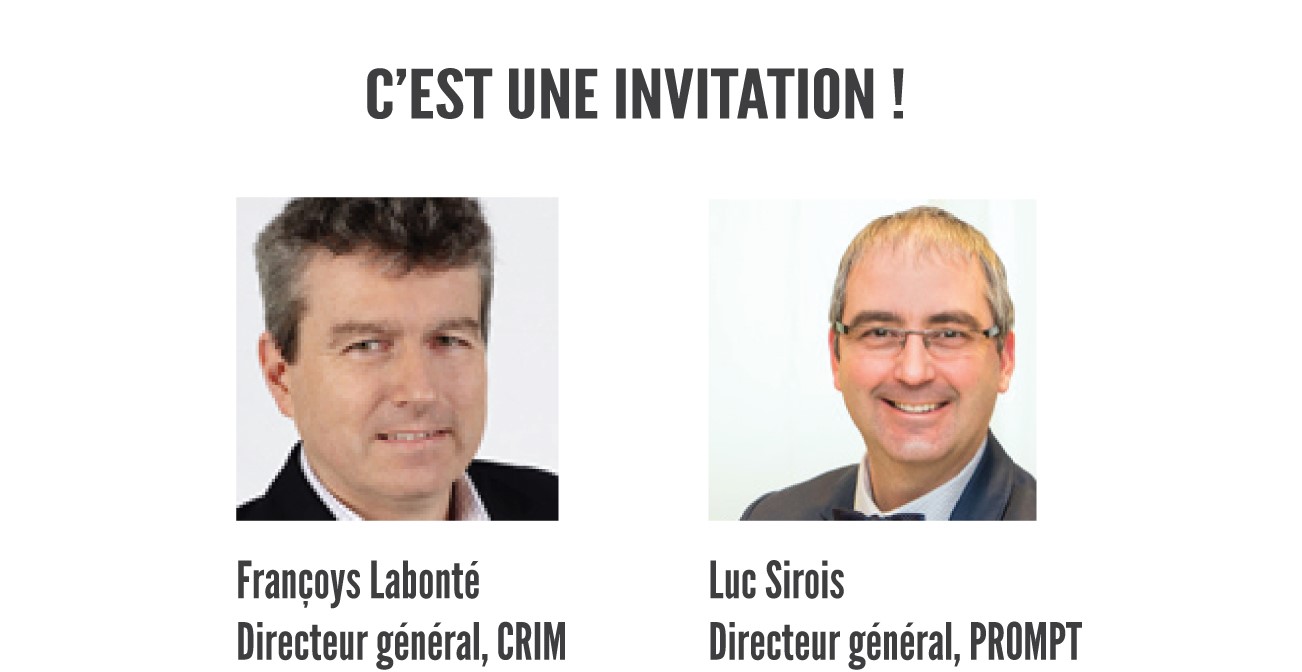 Soyez des nôtres pour cette réunion et tenez-vous au fait de plusieurs dossiers qui vous concernent.
Au plaisir de vous y accueillir !
Upcoming event
LearnAut 2019

Le CRIM présentera un article au LearnAut2019 qui aura lieu à Vancouver, du 24 au 27 juin 2019