Consists of helping clients to take ownership of methodologies or technologies through advice and direct interventions. It includes data evaluation mandates and feasibility assessments for AI projects.
When there are technological or scientific uncertainties related to a client project, CRIM is called upon to exploit applied research results and technologies and to carry out an experimental development project in order to deregister the project. Work carried out with a view to a technological breakthrough.
Upstream research on larger issues, which may result in scientific publications. Work aimed at the advancement of scientific knowledge with a view to a precise practical application.
The CRIM researchers and experts use the Technology Readiness Level (TRL) scale to determine at what stage your initiative is at. They can assist you in the various phases of innovation. Thanks to their scientific knowledge and their practical know-how, they increase the chances of success of your innovation project.
CRIM can assist you in the short, medium or long term, from stage 2 to stage 6. Whether through a support service, experimental development or applied research, knowledge transfer is ensured in the methodology to allow our customers to be autonomous during the next steps.
By choosing CRIM as your innovation partner, you ensure that you have access to professionals who perfectly combine the latest scientific and technological knowledge and their concrete applications to help you create value.
Mathieu Barreau
Director, Business, Communications and Partnerships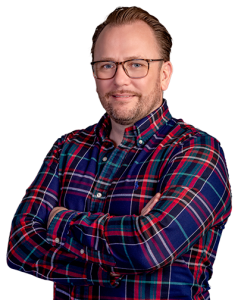 Examples of interventions carried out
Data preparation
Data consistency

Machine learning pipelines

Unstructured data processing

Time-series modeling

Prediction methods

Recommendation systems

Visualisation
Audio and speech
Signal processing

Channel targeting

Speaker recognition

Language recognition

Speech recognition

Analysis of emotions

Copy detection

Fake detection
Vision and image
Object segmentation

Instance recognition

Automated video indexing

Industrial inspection

Fake detection

Image description

Video description
Automatic natural language processing
Finding and extracting information

Specific entity recognition

Textual classification

Analysis of sentiments

Chatbots

Representation of knowledge

Ontology
Geomatics/Geospatial
Observation and remote control

Forecasts and predictions

Climate projections

Biodiversity monitoring
Cybersecurity
Internet of things

Attribution of attacks

Analysis of user behavior

Voice biometrics

Facial biometrics

Electronic contact validation
Formal methods
Systems modeling

Model inference

Tests and verification