At the heart of CRIM's activity, experimental development projects are carried out on behalf of all types of organizations and in all sectors of activity. These projects address a specific problem and adapt to the needs and resources of each client to offer concrete deliverables. They allow organizations to succeed in their digital transition, to market their expertise, and to support the start-up of innovative projects through the development of innovative technologies.
Experimental development consists of work carried out on a systematic basis, based on existing knowledge obtained through research and/or practical experience, with a view to initiating the manufacture of new materials, products or devices, establishing new processes, systems and services, or substantially improving existing ones.
Concretely, experimental development can result in the following deliverables: proof of feasibility, proof of concept (POC), minimum viable product (MVP) or even the creation of a prototype.
How do you go from idea to project?
Innovation is a vector of economic growth and the prosperity of nations. This statement is so true that all major economic organizations in Canada and around the world invest in and promote research and development initiatives.
Among the three main components of research and development, a distinction is made between fundamental research; applied research and experimental development. CRIM focuses its efforts on the second and the last components.
Objectives and benefits of a proof of concept
Proof of concept, from the English "proof of concept" or POC, refers to the initial validation stage of a project. It consists of a demonstration, using data and tangible elements, of the applicability, feasibility and viability of this project.
What is the minimum viable product?
A Minimum Viable Product (MVP) is a version of a product that combines only the basic functionalities when it is launched on the market. The objective is to save effort on the design of the offer while learning as much as possible about the needs of potential buyers.
A sample of target customers tests this unfinished version of the offer and provides feedback that helps refine the concept and come up with a completed final offer later, following a series of iterations. In a way, it is an alpha version of a product or service that will be improved through studies and customer feedback over time.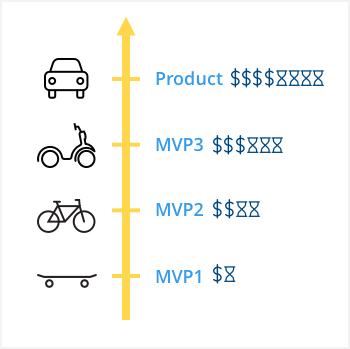 Differences between proof of concept, prototype and minimum viable product
Over 130 interventions of this type carried out with Quebec SMEs over the past few years