Experts agree that the food service industry is in danger. With profit margins in the range of 2 to 4% and a pandemic that is weakening the industry, it's time for companies to think about creative solutions.
In the restaurant industry, demand depends on consumer preferences, income and socio-demographics. Profitability depends on location, food quality and marketing.
Restaurants that perform best leverage delivery or take-out services. In 2019¹, over 95,000 Canadian establishments engaged in the preparation of meals, light meals and beverages ordered by customers for immediate consumption, on or off the premises, generated $674 million CAD in revenues. In the United States, over 660,000 such establishments generated $300 billion in revenues.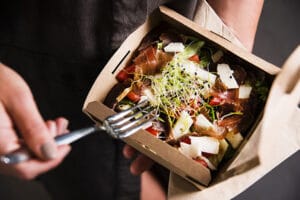 The Challenge with Online Orders: Static Menus
During the pandemic, some restaurants are just starting up take-out menus, while others are increasing efforts that have already been underway for several years. And yet, take-out menus presented online or on social networks are often static: they follow a linear human logic (appetizer, main course, dessert) as they would in a restaurant. In marketing jargon, this menu could be considered as non-optimized and devoid of context.
Without a menu tailored to the consumer's preferences or the current context, opportunities to generate additional income and stay afloat are missed.
The solution: suggesting the right dishes at the right time to the right customer
In order to recoup this loss, the Québec technology company UEAT came up with the idea of developing a suggestion engine based on consumer preferences. Its technology would allow the online menu to be adapted to the profile of the person in front of the screen and their context.
For example:
The menu varies according to the customer's individual profile (food preferences and tastes): if a customer is used to ordering a meal for his whole family, the system learns and will propose family menus; or for a customer who never orders meat, the next time the system may suggest a vegan menu.
The menu changes according to the context (seasons, weather, social events): the system learns and will propose menus adapted according to certain external factors; soup if it is cold outside, desserts if it is Mother's Day, etc…
Development of the platform
This solution had to be deployed quickly because large players such as multinational fast food chains were already beginning to build similar solutions. CRIM stepped in. With its mastery of applied research, cutting-edge artificial intelligence methodology and well-established processes, CRIM facilitated the pre-processing of the data and made it ready to test the recommendation engine.
As a result, the platform and algorithm were developed much faster. In addition, UEAT's preparatory work enabled CRIM to use no less than 800,000 anonymous orders from Québec and Ontario.
To test its recommendation model, UEAT conducted online (A/B) trials for a dozen restaurants in Québec: one group of consumers consulted a menu with intelligent recommendations developed by CRIM, while another group had access to the static menu without recommendations.
At Benny&Co., the contextual recommendation engine is located in the Featured section of the site. The client is offered a menu based on the weather, geographic location, time of day, events of the day, day of the week, etc.
Huge benefits already felt in the sector
Since the deployment at Benny&Co. in September 2020, orders from the AI recommendation system have generated $115,000 in revenue compared to only $22,000 when the AI was not used, a 500% increase!
From a technological standpoint, "a 6-month partnership with CRIM has earned us the equivalent of 3 years of experience", explains Bernard Imbert, Director of Research and Development at UEAT. It is this competitive edge that allows UEAT to stand out in this highly demanding sector.
"Our ultimate goal is to make the contextual recommendation engine accessible to all types of restaurants. The collaboration with CRIM brings us closer to this goal," said René-Pier Plourde, Director of Communications at UEAT.
Clearly, this innovative technology, created through a fruitful collaboration, could propel UEAT onto the world stage.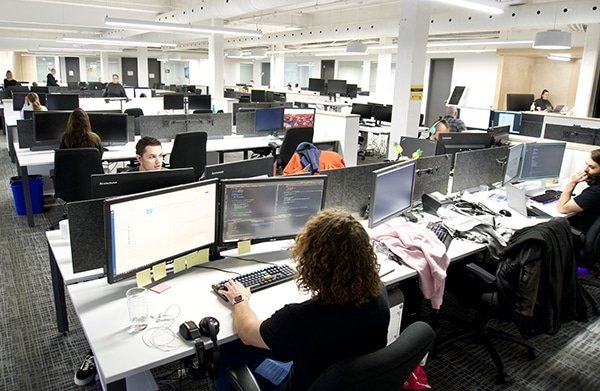 ---
¹ https://www.ic.gc.ca/app/scr/app/cis/summary-sommaire/722?lang=fre
https://www.statista.com/statistics/239417/us-full-service-restaurant-sales