The impact of climate change on our health
As many as 85% of Quebecers are concerned about climate change, according to a Leger poll released at the end of 2020. Climate change is having an impact on health and may hinder provincial strategies dedicated to improve quality of life:
With climate events such as extreme heat comes an increase in emergency hospitalizations, transport by ambulance and even deaths;
With the geographic expansion of ticks, which can survive and spread further within this climatic context, the number of Lyme cases has been increasing over the past 10 years;
With warmer and longer summers, pollen allergies are worsening.
Mental health is also affected. This is known as ecoanxiety, a feeling of anxiety or concern experienced in the face of disruption caused by climate change. While the phenomenon is relatively new, Montreal psychologist Joe Flanders is seeing an increase in the number of patients concerned about the environment.
According to Ouranos¹, the effects of heat could cost society $33 billion in health care costs by 2065 and the effects of certain diseases (Lyme and West Nile virus) $744 million. Beyond the costs, the Institut national de la santé publique du Québec (INSPQ) estimates that air pollution will be accountable for 2,000 premature deaths each year. Over the next 50 years, 20,000 deaths will be caused by rising temperatures.
These findings raise concerns and open discussions around possible solutions. The global community of decision-makers is asking: how will the climate evolve over the next few decades and what can we do to reduce the impact of climate change?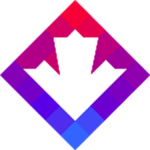 The importance of data in understanding and reducing the impact of climate change
ClimateData.ca, funded in part by the Government of Canada and led by CRIM, was developed collaboratively by leading Canadian climate organizations.
The goal is to support decision-makers across Canada in a wide range of sectors by providing historical and future climate data in user-friendly formats. Users can view, understand and analyze the most up-to-date climate information produced by the latest scientific advances. Such information helps to analyze climate risks and to assess the best adaptation measures.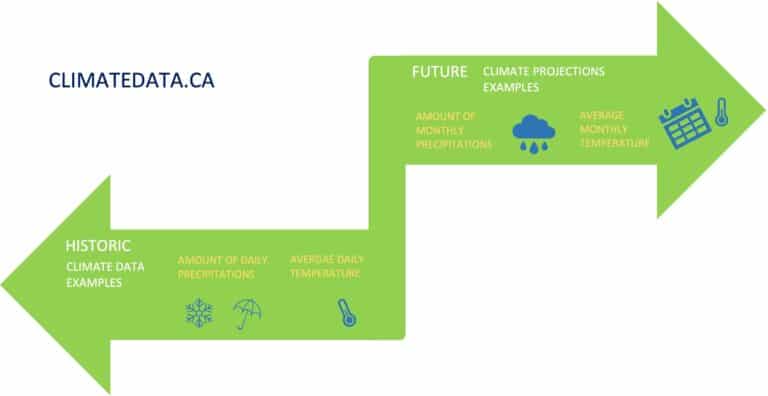 "This tool is very important because there is a disparity between what scientists know and what the general public knows about this issue. This tool becomes a resource for those who may have doubts about the prominence of climate change."

– Catherine McKenna, Minister of Environment and Climate Change in 2019, now Minister of Infrastructure and Communities
Below are two examples of the portal enabling health professionals to better plan for development or resource allocation, among other things.
Example 1: Heat waves
Thanks to the ClimateData.ca portal, public health authorities are informed of expected heat waves in the future.
Let's take the Côte-des-Neiges-Notre-Dame-de-Grâce borough in Montreal: before 2050, the number of days with temperatures above 32 degrees Celsius increases in a similar way according to the three greenhouse gas emission scenarios (red, green, blue curves). However, from 2050 onwards, we can see that the number of days above 32 degrees Celsius starts to increase much more rapidly, particularly under the highest emission scenario (red curve).
Urban planners can use these projections to help make decisions about future projects.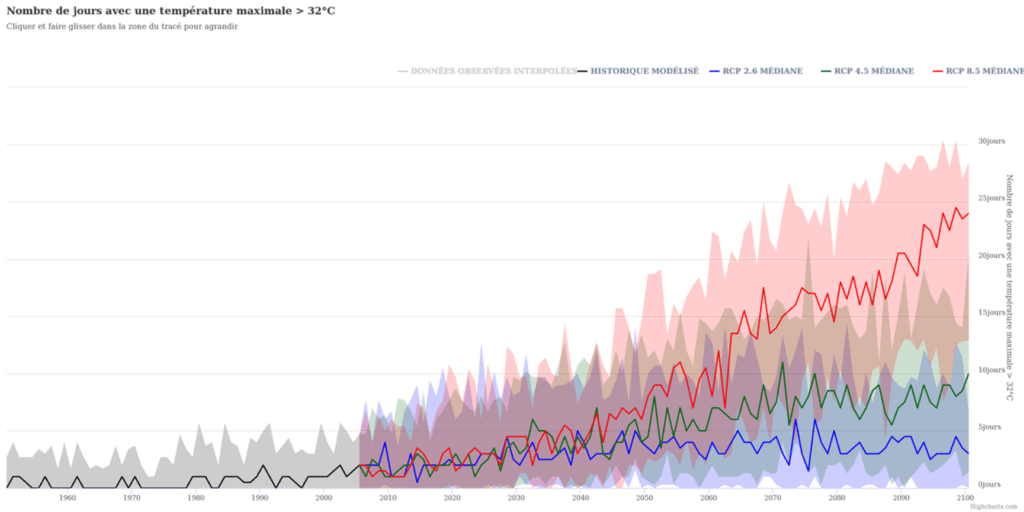 Figure 1: Number of days with temperatures above 32 degrees Celsius according to greenhouse gas emission scenarios for a 1960-2070 horizon
With this information, local authorities can better anticipate risks, such as increases in hospitalizations, as well as update response plans for extreme heat waves. Municipalities can also implement new measures, such as issuing heat alerts or setting up cool areas.
Example 2: Ticks and Lyme disease
The same mechanisms can be implemented to reduce cases of Lyme disease. A tick is active at temperatures as low as 0 degrees Celsius. With global warming comes an increase in the number of annual degree days above zero, with a minimum of 2,800-degree days above freezing required for tick survival². The range of tick activity in Ontario and Quebec has already increased considerably in recent years.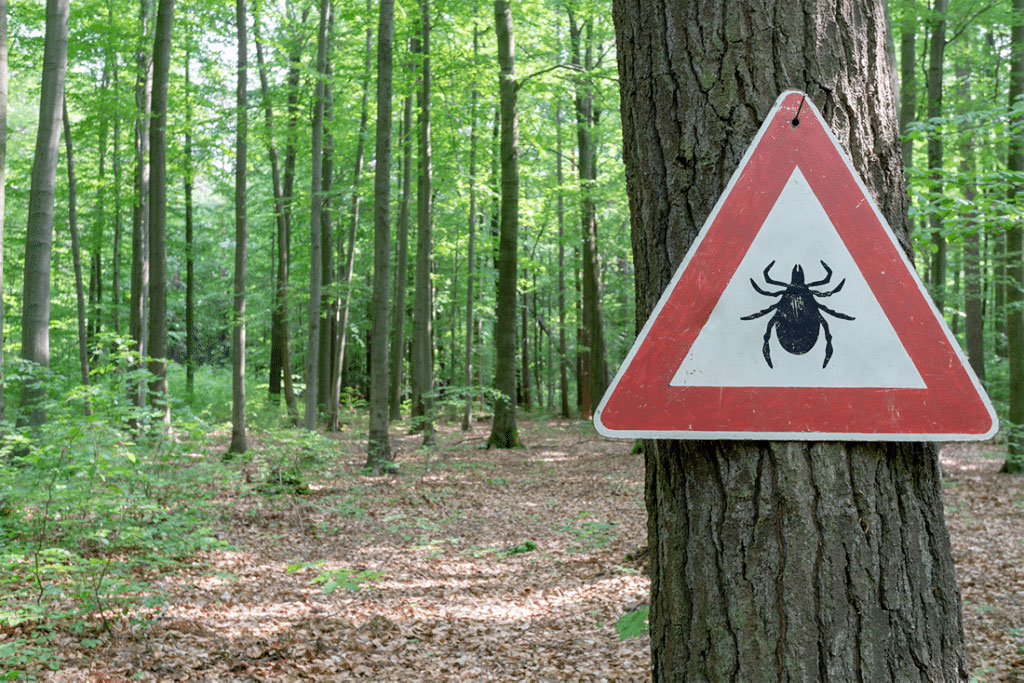 ClimateData.ca uses the cumulative degree-days tallied during the summer season to create maps allowing for quick information visualization.
This information could be used to determine the areas most likely to become terrains for tick survival in the future, where local health authorities should be on the lookout.
Figure 2 presents this climate indicator as estimated using 24 climate simulations from the BCCAQv2 database for 2041-2070. The user can identify regions of Canada that will have a high number of annual degree-days above 0 degrees Celsius (dark green) and therefore, regions where the threat of Lyme disease is likely to increase or even appear.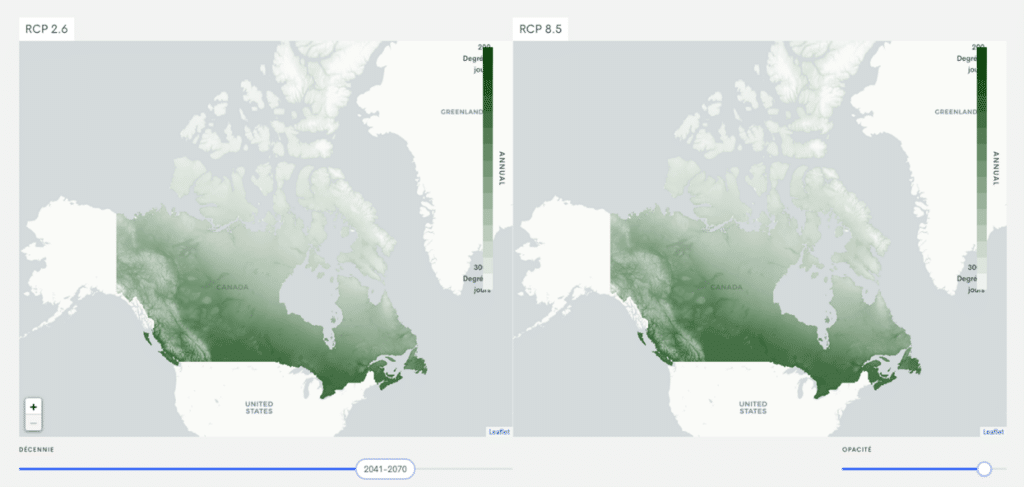 Figure 2: Map of annual 0°C-base degree-days under two greenhouse gas emission scenarios (RCP2.6 and 8.5) for the 2041-2070 horizon
As with heat waves, ClimateData.ca can be used to support local response efforts in the future. For example, national park systems could implement a system of early warnings to the public when new areas become susceptible to ticks.
The benefits of ClimateData.ca
In short, ClimateData.ca provides decision-makers with historical and projected data that, when combined with a range of other factors (e.g. environmental, socio-economic), can lead to positive impact projects.
Let's say the portal informs urban planners of an important increase in heat waves over the next 50 years. In order to avoid a problematic situation, they could start as of now with:
Implementing urban greening projects. They could also establish a list of species to be planted according to future temperatures and precipitation because, as is well known, planting trees in a parking lot acts against heat islands, since trees are natural air conditioning systems. During a heat wave, the difference in temperature between a paved area and an area shaded by nature can reach 12°C³
Developing a telephone alert system to reach vulnerable people in times of heat wave or smog and inform them of the proper behaviours to adopt. A pilot project has already been conducted in the Longueuil agglomeration. The benefits are clear: a 50% decrease in medical services for those who received the alert and estimated cost savings ranging from $96,972 to $2,800,000 over 10 years.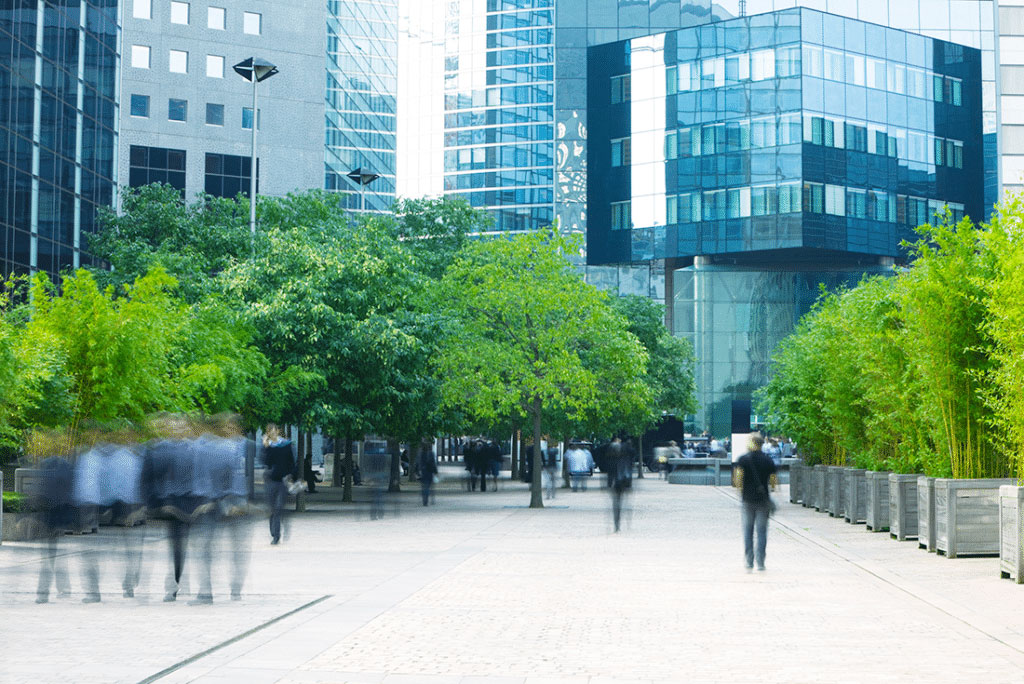 ClimateData.ca is a user-friendly tool that offers a glimpse into the future, generating climate projections up to year 2100.
By anticipating the future impacts of climate change more accurately, healthcare professionals and other stakeholders will be able to make the best decisions to reduce risks for the population.
---
1 The Consortium on Regional Climatology and Adaptation to Climate Change
2 https://donneesclimatiques.ca/etude-de-cas/la-maladie-de-lyme-en-ontario/
3 https://montreal.ca/articles/verdir-montreal-pour-sadapter-aux-changements-climatiques