The chatbot market is exploding. Three years ago, there were as many as 300,000 chatbots on Facebook. Comm100, a Canadian provider of customer service and communication products, reveals that its chatbots are handling over 25,513 conversations monthly. Their customers come from a variety of sectors: banking, education, health and consumer products.
According to Gartner, a chatbot is a domain-specific conversational interface that uses a third-party software such as a messaging platform for its conversations. Chatbots vary in sophistication, from simple, decision-tree-based marketing stunts, to natural language conversations.
Typical interaction between a chatbot and a customer
Hello, how can I assist you?
Uh, hi. I'd like to learn more about chatbots.
We have 71 articles on chatbots so far. What do you wish to know specifically?
I'm curious about the use of chatbots in business. I'd like to know who the main users of chatbots are.
Would you like to see statistics on chatbots?
Yes, I would. I want to see some numbers.
One moment please…
Chabots have taken customer service by storm. In 2018 alone, they generated around US $40.9 million in revenue, and it's just the beginning. For service industries such as banking, experts predict that 90% of customer interaction will be automated by 2022. Gartner estimates that by next year, 72% of customer interactions will involve emerging technologies such as machine learning apps, chatbots and mobile messaging. Finally, Statista predicts that the global chatbot market will reach US $454.8 million by 2027.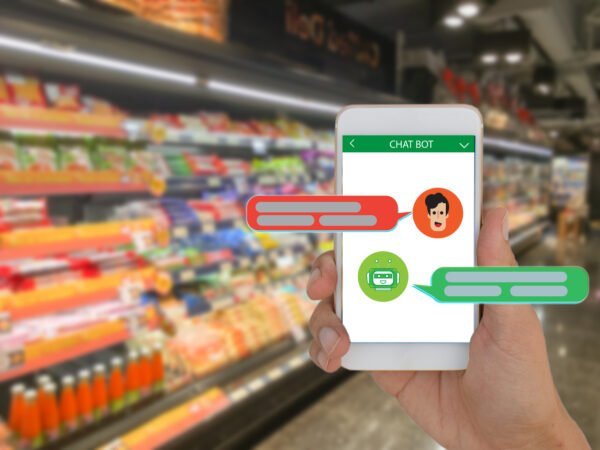 Contrary to popular belief, consumers enjoy chatbots; more than half of users surveyed are satisfied, and about 60% of millennials are already using them to buy basic goods.
The written survey has its limitations
Would chatbots be as effective for conducting written surveys? INBE, a Québec City-based consumer research and opinion firm tackled with this question. The company specializes in testing new products for its clients, most of them being small and medium-sized businesses: INBE sends product samples to the target consumer, asks to test them and answer a few questions.
As all market research professionals, INBE must work with the limitations of administered questionnaires, including:
Rigidity: the questionnaire does not allow for clarification of certain questions;
The format (closed, binary questions) limits the formulation of opinions or appreciation by consumers;
When the questions are open-ended and the answer is vague ("it's good"), there is no possibility to bounce back and ask for clarification;
For multiple-choice questions, there is no way of knowing for certain that the consumer has understood the response options;
The surveyor cannot ask for clarifications if need be, nor ensure that the respondent has answered all the survey questions.
CRIM develops an algorithm that detects sentiment
INBE solicited CRIM experts in natural language processing (NLP) to develop a chatbot that would conduct a consumer survey for a specific product category – food – to measure one aspect – flavor. Unlike a questionnaire, the chatbot would leave more room for the consumer to fully express their opinions and share their appreciation of the product.
The algorithm would then automatically detect the sentiment expressed by the respondent, and the chatbot would continue interacting with the person to better understand their appreciation and the characteristics of the product being tested.
To build the chatbot, CRIM relied on data from past surveys on a variety of foods, i.e., salad dressings, cheeses, seaweed treats, pre-packaged marinated chicken and new fruit juice flavors.
Question 1 from the agent:  Hi, how did you find this Dijon mustard?
Answer: I didn't like it very much.
– The algorithm detects that the answer is too vague, so the agent asks for clarification
Question 2 from the agent: What did you dislike about the mustard?
Answer 2: I didn't like the color.
– The answer does not mention taste, so the chatbot asks a specific question about taste
Question 3 from the agent: What did you think of the taste?
Answer 3: I found it too spicy.
To train the algorithm, the CRIM-INBE project team annotated over 14,000 responses on 146 questions from past surveys.
---
Data used to design the CRIM-INBE chatbot
Number of questions asked: 146
Number of answers given: 14,261
Number of sentences expressing an opinion on taste: 3,055
Number of sentences expressing a positive/negative feeling: 2,583 / 1,423
---
This data will be used to train the algorithm to distinguish the nature of the feelings expressed by consumers and the appreciation of product attributes such as flavor, texture, price, packaging, appearance, etc.
At the end of this project, the chatbot will be able to recognize a sentence expressing taste with an accuracy of 90% ("I didn't like it") and detect the level of appreciation toward a product characteristic ("I find it too spicy") with an accuracy of 73%.
Algorithms and chatbots working together to market better products
These conversations have the potential of replacing static consumer surveys that INBE currently runs. The benefits to INBE business customers are significant: by quickly capturing consumer preferences, the chatbot will reduce the risk of dissatisfaction and suggest a product in line with their tastes.
As a result, businesses will obtain more precise and accurate consumer behavior data and will be better able to develop new offerings for ever-evolving needs.